Tech Collaboration: US, UK, French Navies Agree to Bolster Joint Operations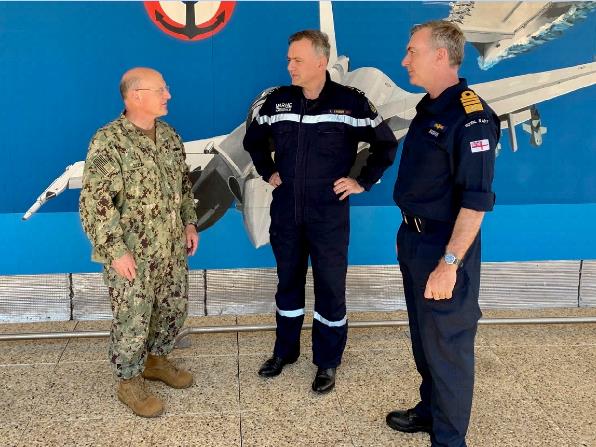 A meeting was held in France between the Naval Chiefs of the US, UK, and France navies. A mutual understanding was developed in the meeting for the interoperability and collaboration between this tech collaboration to address some of the most important maritime issues. Chief of French Navy Adm. Pierre Vandier, British Royal Navy First Sea Lord Adm. Tony Radakin, and U.S. Chief of Naval Operations Adm. Mike Gilday noting their common interests, values, and global responsibilities in the areas of the Middle East, Caribbean, Indo-Pacific, and Africa signed a trilateral agreement for cooperation.
The naval power gets amplified with the integration and sailing between like-minded navies. No one nation can bear the burden alone on its shoulder. The challenges posed by the uncertain world can only be tackled if the like-minded navies strive together. According to the agreement between these three navies, "Even during the global pandemic, the naval cooperation was continued across the spectrum in support of NATO, and recently in a carrier operation exercise between the French aircraft carrier and British aircraft carrier. To keep the world's oceans free and open, we will continue to strengthen our enduring partnership with the help of day-to-day competition, conflict, and crisis. To enhance the capability and reach of our naval forces across the globe, it is very important to operate together".
The agreement was signed between the navies in the Atlantic Ocean, demonstrating what a trilateral collaboration will look like. Radakin said that; we are three nuclear navies, we are three NATO navies, and we are three aircraft carrier navies. What adds to our power are our shared values and interests. This agreement would give strength to our submarines for the freedom of maneuver to operate in the North Atlantic; you will witness that in the Indo-Pacific and the Arabian Gulf. Several exchanges of hardware have been carried out among the allies to promote interoperability and achieve the interchangeability that the naval leaders are seeking.